Order the book at these and other retailers:
Joseph Schumpeter's "gale of
creative destruction
" has never blown more fiercely. Emerging technologies such as additive manufacturing and new business models such as asset-sharing platforms threaten to disrupt market leaders and reconfigure existing value chains. Innosight's research projects that
50% of the S&P 500 will fall off
the vaunted index in the next decade.
What if leaders could tap into the underlying forces behind these kinds of changes to power new waves of growth for their companies?
Dual Transformation lays out an approach to reposition today's business to maximize its resilience while at the same time creating tomorrow's new growth engine. By leveraging difficult-to-replicate assets and capabilities, companies can create transformative new business models and gain advantage.
Learn about transformation leadership immersion in our new animated video.
With case studies from organizations like Adobe, Aetna, and J&J, as well as first-hand reflections from executives who have led transformations, and behind-the-scenes insight from the authors' own experiences,
Dual Transformation
will guide executives through the journey of becoming the next version of themselves, allowing them to own the future, rather than be disrupted by it.
Scott Anthony is a senior partner at Innosight.
Clark Gilbert is the president of BYU-Idaho and the former CEO of Deseret News Publishing and Deseret Digital Media.
Mark Johnson is a cofounder and senior partner at Innosight.
"I have long puzzled over how existing companies can address the dilemmas of disruption. Dual Transformation provides the answer."
—CLAYTON CHRISTENSEN
Harvard Business School Professor
WATCH OUR EXPLAINER VIDEO
Tools & Templates
Download the following tools and templates to help guide your transformation
July, 2018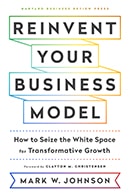 September, 2016
September, 2016