Employers can no longer retain employees on brand and compensation alone. Today's employees want greater balance1, where work revolves around life and not the other way around, and flexibility2, not only in terms of control over where they work, but how they do the work. Emerging priorities also include personal growth, career mobility, and having a culture that embraces diversity, equity, inclusion, and belonging (DEIB3).
To improve retention and compete in the war for talent, organizations need to develop more compelling employee value propositions. When HR teams – in partnership with leaders and managers across organizations – focus on understanding their employee's "jobs to be done," they can address the core motivations and drivers of employee satisfaction and engagement.
Jobs to be done, a concept popularized by Innosight's co-founder, the late Clayton Christensen, is a widely used approach for understanding customer needs and creating compelling solutions to solve them. A "job" is the problem or goal a person wants to solve or achieve in a particular circumstance. This means customers "hire" solutions to get these jobs done. A jobs lens uncovers the underlying causal reasons as to why people "hire" solutions. For example, the patrons of a café in a business district might "hire" a cup of coffee to "feel energized for an afternoon of meetings," or "have a place to connect to Wi-Fi to get an important document sent out." In this example, a cup of coffee is the solution to two quite different jobs. Understanding this helps innovate customer-centric solutions.
Much as customers have "jobs" they are trying to get done in their lives, so do employees. (Note: to clear up any confusion, we use the word "job" in this article to refer to the concept of employee jobs to be done, not the actual job the employee is hired to do for the company.) Much as customer-centric organizations understand customers' jobs, an employee-centric organization understands its employees' jobs.
Jobs to be done can serve as a common language, a method, and a mindset for managers to understand important or unsatisfied employee jobs. Once this is clear, they should partner with HR to prioritize which jobs to find creative solutions to. This jobs-to-be-done approach has multiple benefits. It aggregates the "voice of the employee" through every management layer while instilling in every manager a collective ownership and accountability for the talent agenda. It also democratizes employee insights beyond the HR department. Ultimately, this creates an employee-centric organization that systematically and continuously uncovers opportunities to innovate the employee value proposition and refine the employee experience.
Two Steps to Create an Employee-Centric Organization
1. Train managers in jobs to be done to help them understand and share actionable insights that help to innovate the employee value proposition.
Employee jobs have functional, emotional, and social components. A functional job can be "provide for my family" or "upskill my capabilities." Emotional jobs are ones such as "feel connected with a community," or "avoid psychologically unsafe environments." Social jobs are how employees want to engage with or be perceived by others and can include "show my friends that my employer makes a positive difference in the world" or "show my parents-in-law that I'm a success" through a promotion. Understanding employees' functional, emotional, and social jobs can help managers understand why employees might "hire" or "fire" their organizations.
Take the example of hybrid work policies. Since the COVID-19 pandemic, some organizations have introduced blanket policies that allow employees to work from home on specific and predetermined days. This helps create flexibility for employees, but only incrementally so.
A jobs-centric approach will probe a level deeper, revealing what employees are truly asking for. When the full range of employee jobs are taken into account – from the functional job "spend less time commuting" to the emotional job "feel in control of my time" to the social job "show that I can be trusted to deliver value" – then it becomes clear that replicating a policy that dictates when and where employees work falls short. As the Chief People Officer at one of our global consumer goods clients put it, "If you are telling your people exactly which weekdays they can or can't work from home, this is still about order and control. It is not hybrid. Hybrid working should be liberating."
A better way to create true flexibility is to empower teams to figure out themselves where they need to be to do their best collective work, then equipping them with the enabling technology.
A better way to address these jobs and create true flexibility is to empower teams to figure out themselves where they need to be to do their best collective work, then equipping them with the enabling technology. Another client, a people manager at a Philippines telecommunications company, told us "My team wants to be trusted to deliver in an output-based work environment. They do not want to revert to an input-based environment that makes them feel they need to be seen in the office all hours. I trust them to figure it out among themselves, and they do."
Managers equipped with jobs to be done can understand the unaddressed functional, social, and emotional jobs of their teams. By sharing these insights with peers and the HR team, organizations can arrive at better ways to solve employees' jobs and innovate their employee value propositions.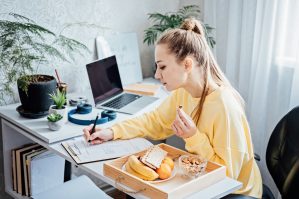 One company innovating its employee value proposition based on deeper insights is US-based chemicals manufacturing group Dow. To unlock true flexibility for employees, Dow launched "Design Your Day", a program allowing employees and managers to discuss flexible work schedules. Mike Weideman, who oversees employee experience at Dow, has said publicly, "Design Your Day, in short, is Dow's new framework for flexibility…Employees and leaders are entrusted and empowered with role-based flexibility as far as where and when their work is done, while still being accountable to deliver results."
Dow also recognized that people who have taken extended career breaks due to personal commitments or life events, such as recovering from an illness or starting a family, may struggle to return to the workforce.
These prospective talents have unmet jobs to be done. These include needing to feel they still possess relevant skills and being able to balance work with newfound parental responsibilities. To overcome these concerns and create a supportive environment, Dow launched its "ReAction"program4, which introduced onboarding processes and mentorship systems that helped people rejoin the workforce. These are examples of employee-centric solutions that have contributed to Dow being featured on Fortune's "100 Best Companies to Work For" list.
2.Run collaborative pilots between the business and HR to innovatively elevate the employee experience, by addressing jobs to be done insights.
Creating policies to address employee jobs to be done requires ideation and iteration, in the same way innovation for the customer does. Business leaders and managers should partner closely with HR to experiment ways to innovate the employee experience.
As an example, we at Innosight have applied the jobs to be done approach to improve our employee experience. An internal effort during 2020 revealed one clear unsatisfied job was to "maintain mental energy throughout the day." Employees were experiencing back-to-back virtual meetings each workday. This was draining mental energy and reducing productivity.
To address this unsatisfied job, we piloted "Innosight Standard Time" (IST), with a rule that all internal meetings are scheduled for either twenty-five or fifty minutes. An important design factor for this solution is that meetings start at either five or ten minutes past the hour, to guard against an inevitability that if meetings were to overrun, they would creep into the protected time. This has enabled regular breaks throughout the day for people to fix a drink, stretch their legs, or reset for the next meeting. IST has proven incredibly popular with our employees and rapidly became the accepted norm for internal meetings. It has been so successful, that our clients have noticed it, resulting in requests to apply the same scheduling approach to our meetings with them.
In another example, global consumer goods company Unilever has acknowledged that employees face challenges in long-term employability due to shifting skill requirements in today's fast-moving world. In response, Unilever piloted an AI-enabled talent matching platform that enables employees to develop new skillsets through new roles and projects at a different business unit5. What started as a small pilot with a handful of IT employees in 2018 has grown to become Flex Experiences, a program that has reprioritized 110,000 hours of effort across 1,350 projects while giving employees opportunities to continuously upskill and grow.
_________
As one client put it to us, "Once you've viewed the world through a jobs lens, you see possibilities to make things better everywhere." Equipping every leader and manager with the jobs to be done approach democratizes the ability to understand employees beyond HR and to act on actionable insights. Experimenting through collaborative pilots leads to innovative solutions that elevate the employee experience. Taking these steps helps create an employee-centric organization that deeply understands the shifting priorities of its employees, responds to them faster, and with more innovative solutions.
---
About the Authors

Andy Parker is a Partner at Innosight. aparker@innosight.com
Utsav Bhatt is an Associate Partner at Innosight. ubhatt@innosight.com
Paxton Quek is an Analyst at Innosight. pquek@innosight.com